Let's talk shop about early game. For starters, what items are best from the beginning carousel? It's.. tough to say because there's a chance you're going to have a game where the starting carousel is only defensive items or all of one item so there's not really a definitive answer to what's best to grab. On top of that the items are quite diverse right now as there's a lot of variety in what you can pick up and play. With that said I do think there's a few components always worth considering. Sword, Chain Vest and Rod all make into a lot of fantastic items. All of the other components are also worth considering but I'm going to separate those into the secondary picks and focus on the first three.

While the meta is definitely magic damage heavy there's a lot more viable options for physical damage carries in set three and Sword is the way to go for those champions. It can make into several good items depending what you play such as Giantslayer, Bloodthirster, Gunblade, Infinity Edge and Deathblade. All of those items, in the right circumstance, can be used on multiple champions. One of the best items built from the Sword though is Guardian's Angel since it keeps important units alive longer in fights.

Rod can be made into Rageblade, Ionic Spark, Deathcap, Jeweled Gauntlet and Morellonomicon. All of which, again, are usable in the right situation and champion. Another added bonus of Rod is combining it with a Spatula turns a unit into a Demolitionist which is one of the current meta splash traits late game because of
Gangplank
.

And lastly for Chain Vest it makes into Guardian's Angel, Redbuff and Bramble Vest. It also can turn a unit into a Rebel which is commonly done on
Gangplank
or
Miss Fortune
in a Rebel build and even Titan's Resolve has seen some play so far. All in all there's a ton of viable options for items right now so whatever component you grab can often be used in some way.

Before I touch on leveling and economy let's talk about a few decent options for champions early on. I think it's too early to really say what is going to be considered a strong mid game carry but there's a few standouts already with
Lucian
with Red Buff and early Cybernetics being one of the best options.
Ziggs
with AP items and an early three Rebel can do work as well.

A decent item carry for AD items is
Xayah
who can shred units early on with her attack speed bonus, especially when paired with early Blademaster. Whatever you grab early on try to play it based on your items so give AP items to magic heavy champions and AD items to physical damage champions as that will make transitioning later a bit smoother.

Onto a bit about leveling and economy. The main thing to keep in mind right now is that maintaining either a win or loss streak is insanely important. Ideally you want to win streak as long as possible to Krugs or lose streak as long as possible. This is due to the change in the streak system making it much easier to get +3 gold as you only need four of either to do so and you also get that bonus gold on PvE rounds.

If you have a strong start, play aggressively by leveling on either 2-1 or 2-2 and again on 2-5 and use your items to make sure you're keeping your streak going for as long as possible. If you have a rough start then it's often best to play the weakest board you can to try and lose each round. You will generally not level until either Krugs or the round after and your goal is to be on 50 gold as quickly as you can.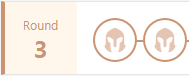 Leveling times are a bit off as well as those with a loss streak will want to level later than usual so the normal timing for 3-2 doesn't always apply. For those with high health it's totally fine to still level on 3-2 to 6 but you can delay it if you think the rest of the lobby is still on the weak side. However you wish to play it's best to scout on Krugs, 3-1 and 3-2 just to get an idea of the strength of the lobby and see who's playing slow and who's playing aggressively.